Ayurvedic Food Recipes for Diabetes – 5 Diabetic-Friendly Recipes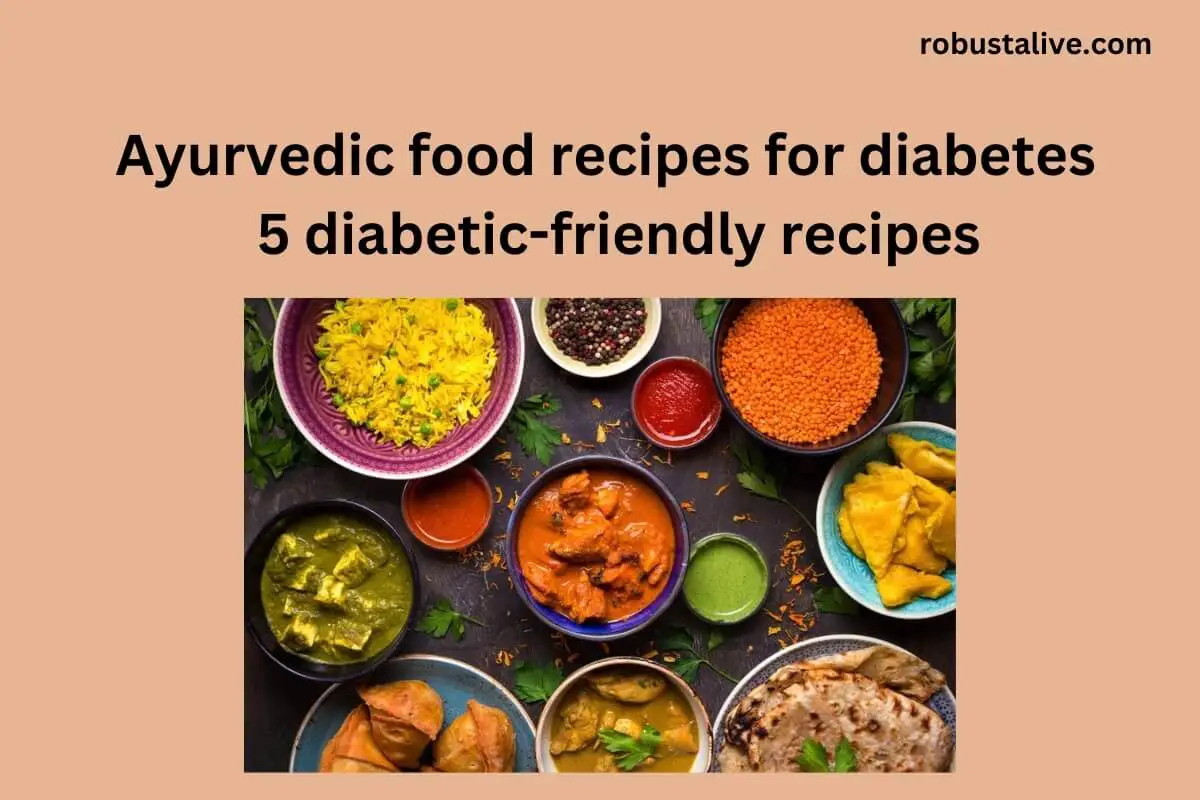 It's essential for a diabetic patients to continuously monitor their medications and diet to keep their blood sugar level in control. Diabetes affects millions of people worldwide and is one of the major lifestyle diseases.
When the pancreas cannot produce enough to break down the glucose in the body's energy, it increases blood sugar levels—the constant increase in blood sugar results in diabetes. However, diabetes doesn't mean giving up on everything you like to have. There are many ayurvedic food recipes for people with diabetes that you can enjoy freely.
The best part about the ayurvedic food recipes for diabetes is their unique taste with lots of health benefits. So without any wait, let's dig in.
Ayurvedic Diet Chart for Diabetics
Here is the general Ayurvedic diet chart for diabetic people:
Start the day by kick-starting your body's metabolism with a cup of herbal infusion. Mix one tsp of licorice, a cinnamon bark, a tsp of crushed coriander seeds, and three pods of cardamom in a jar. Put some hot boiling water in the jar. Add a honey teaspoon and drink it on an empty stomach to boost the metabolism.
150 to 300ml is the perfect dosage for this herbal infusion.
For breakfast, foods rich in insoluble fiber, like whole cereals, maize, ragi, and bajra. These are the perfect breakfast option. You can also have steamed idlis, pancakes, paddu, or cereals' roti. Adding spicy condiments like coriander, tomato, mint, and herbal chutneys can improve the digestion and absorption of food.
There is a famous saying that eats breakfast like a king, lunch like a prince, and dinner like a poor person. For a diabetic, 40 to 60 grams of dry cereal flour is enough to make breakfast the biggest meal of the day. Uddalaka, Syamaka, and kodrava, the variety of rice, kulattha, canaka, and adhaki pulses and beans, are suitable for people with diabetes.
A 60gms bowl of whole protein is an ideal mid-morning snack. You can sprinkle the lemon juice on the spiced and steamed sprouts. It will give your body the essential nutrients it needs for the day. Khltattha, adhaki, and canaka pulse beans are the perfect choices.
Add saamai or steamed rice to your plate with a bowl of horse gram pulse soup, steamed veggies, legumes, and a glass of buttermilk. It will satiate your diabetic diet by providing enough amounts of calories. The ideal portion size is:
50gms of steamed rice
40gms of cooked dal
150ml of buttermilk
100gm of each legume and veggies.

Evening
Drink a glass of warm spices and light licorice root milk tea in the evening. It will help in the digestion of the previous meal and support the digestive metabolism from the day to the evening.
Start your day with a light meal. The ideal ayurvedic dinner menu includes a bowl of oats or wheat porridge with buttermilk and a medium size bowl of steamed veggies. Alternatively, you can have roti with sumptuous veg curries.
Ayurvedic Diet Instructions
To eat: Whole grain cereals, oats, and whole wheat
To avoid: whole refined flour and the products, rice, and refined sugar
To eat: Apple, Guava, Melon, Papaya, Plum, Blackberry, Loquat, Peach, Orange, Apricot, Amla, Pear, and Pomegranate.
To avoid: Mango, dates, sapodilla, grapes, and litchi.
Vegetables to eat: Okra, Curry leaf, Cauliflower, Mint, Cabbage, Turnip, Beans, Coriander, Spinach, Green pepper, Mushroom, Eggplant, Bottle guard, Capsicum, Beetroot, Ginger, Peas, Broccoli, Fenugreek leaves, Cucumber, Radish, Round gourd, Ridge gourd.
Vegetables to avoid: Sweet potato, canned or frozen vegetables, Jack fruit, potato, and taro root.
Pulses to take: Legumes and split lentils
Pulses to avoid: Frozen pulses
To eat: Tofu
To avoid: Butter, Cheese, Whole milk and cream, condensed milk, and full-fat yogurt.
To eat: Coriander, Ginger, Cinnamon, Turmeric, Pepper, and Cumin
To avoid: Red chilies
To eat: Coconut water, Herbal tea, Giloy juice, Bottle gourd juice, Neem juice, and amla juice.
To avoid: Carbonated juices, Packaged or canned juices, cream-based liqueurs, whole milk drinks, fruit juices, and sugarcane juices,
To eat: Roasted or grilled fish, chicken soup, egg white
To avoid: Organ parts like the liver, chest, kidneys, Prawns, Goose, Mutton, Lamb, egg yolk, Ham, Red meat, Turkey, lobster, Pork, lean beef, and Rabbit, etc.
To eat: Walnuts, chia seeds, Flax seeds, Sesame seeds, Almonds, and Pumpkin seeds.
To avoid: Cashew, Peanuts, Pistachio, and Raisins
To eat: Soybean oil, Canola oil, Sesame oil 500ml, Olive oil, and a small amount of only-cow ghee
To avoid: Trans fats, cream, butter, and hydrogenated oil.
To eat: Homemade products
To avoid: All bakery products, fruit jellies, artificial sweeteners, packed soups, ice cream, coconut bars, chutneys, fried food, pickles, mayonnaise, high-fat dressing, jams, and sweets.
Ayurvedic Food Recipes for Diabetes
Here are some best Ayurvedic food recipes for diabetes:
1. Date and pistachio muffin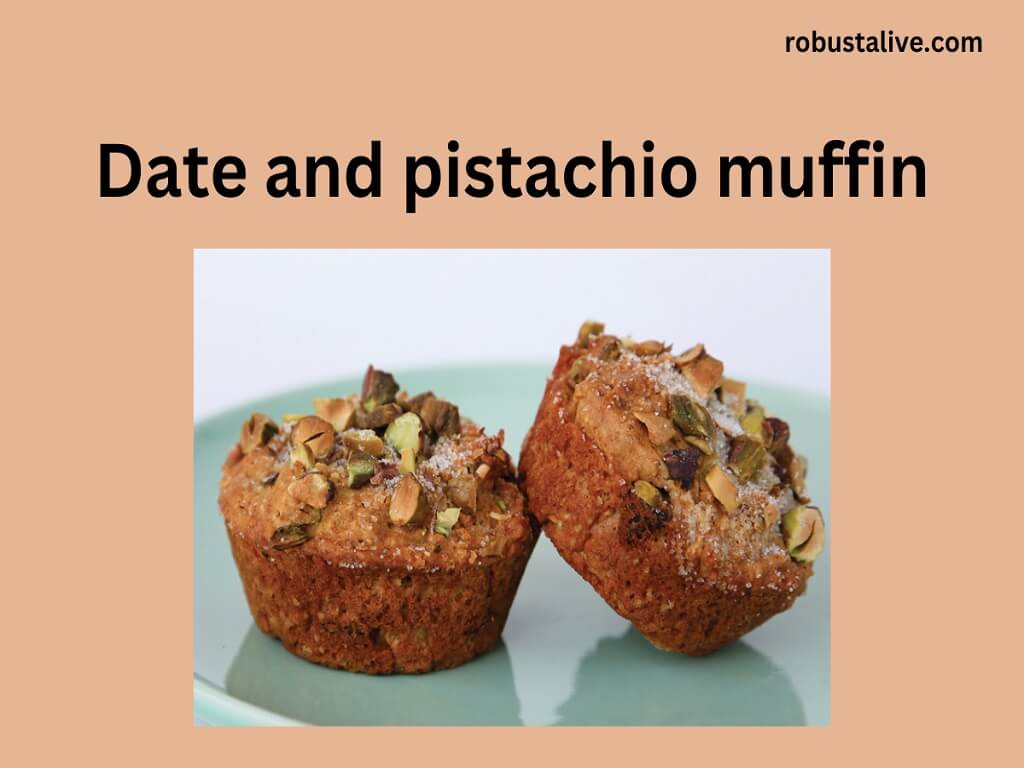 According to the experts, people with diabetes can benefit from the high fiber content of dates. The nutrients present in dates are easy to digest. Besides, dates are rich in fiber, which aids in reducing the risk of type 2 diabetes.
The studies on diabetes, cholesterol, and obesity say that pistachios are ok for a diabetic person as they have a low glycemic index. They are also rich in fiber, antioxidants, and proteins. In addition, they are naturally low in cholesterol.
Ingredients
¼ cup of white butter or ghee
¼ cup of khaand is a healthier replacement for sugar. Unlike whitened and processed sugar granules, khaand has some tiny crystals from sugarcane processing.
½ cup of ragi flour
¾ cups of whole wheat flour
Two tablespoons corn starch
½ teaspoon of salt
½ teaspoon of baking soda
½ teaspoon of ground cardamom
1 ½ teaspoons of baking powder
1/2 cup of water
1 cup of buttermilk
1 cup of chopped dates
1 cup chopped pistachios
Method
Preheat your oven to 180 degree Celsius
Grease the muffin tray with butter
Mix the khaand and butter in a bowl that will give a cream-like texture
Add cornstarch, ragi flour, whole wheat flour, ground cardamom, baking soda, and baking powder to this mixture.
Now, add water and buttermilk until all the ingredients are properly blended.
Add chopped pistachios and butter to the batter.
Put the batter into the tray and bake for 25 to 30 minutes.
2. Green lentil Dessert fudge
Lentils are colorful legumes that are rich in protein and fiber. According to the USDA, lentils have more than 15g of fiber in 100gm servings and nearly 18g of protein.
Ingredients
1 cup of overnight soaked whole moong beans
Four tablespoons of cow ghee
400ml of whole milk
One tablespoon raisins
Ten halved almonds
One teaspoon of ground cardamom
1 cup jaggery or khaand
Method
Put drained, soaked beans in a food processor till you get a smooth paste.
Try this paste in ghee till it gets golden. Add sugar, milk, cardamom, and raisins.
Take a pan and put the paste in it. Add milk to it and slowly cook the mixture on low heat. Stir till the liquid is absorbed.
Transfer the prepared fudge onto a greased dish, garnish it with crushed nuts, and serve hot.
3. Ayurveda spiced tea for diabetes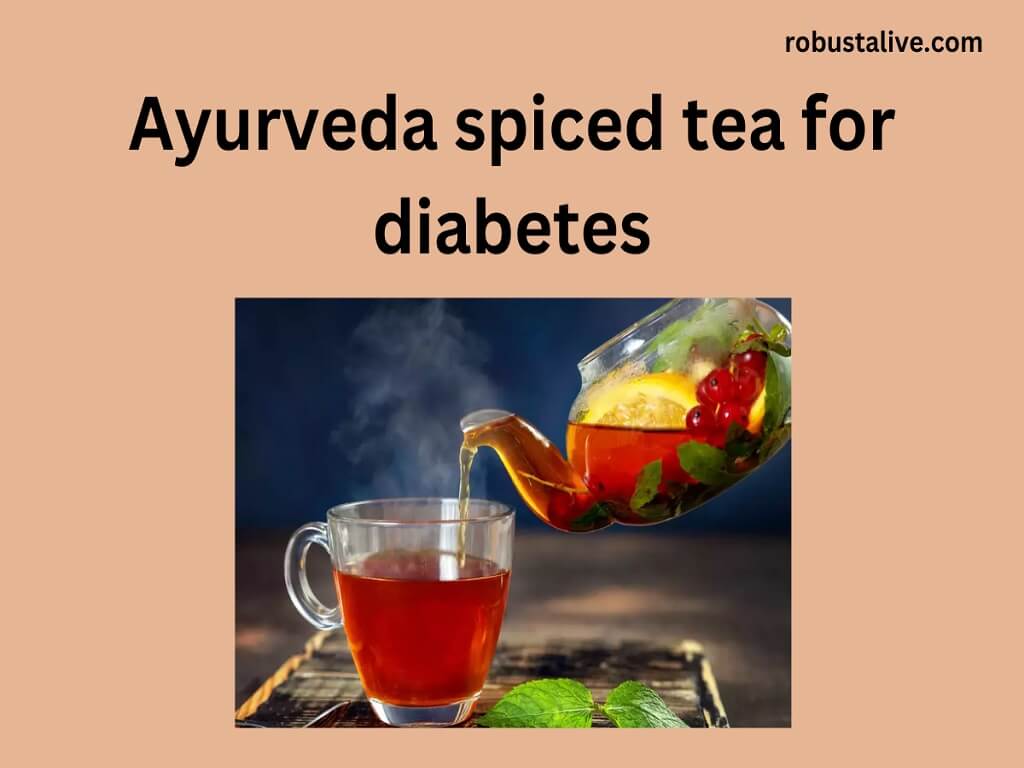 Ingredients
Black cumin – 2 teaspoons
Fenugreek seeds – 2 teaspoons
Carom seeds – 2 teaspoons
Method
Roast the seeds mentioned above separately till they start spluttering
Don't let the fenugreek seeds turn black
Put the ingredients in a grinder
Grind them into a fine powder form
Put this mixture in an air-tight container
Mix one teaspoon of hot but drinkable water to take it on an empty stomach.
This mixture will benefit digestion, reduce bloating, and cool your body. It will also help you with weight loss.
4. Energy booster for diabetic person
Ingredients
Indian Gooseberry powder – ¼ teaspoon
somnifera powder – 1/4teaspoon
Himalayan rock salt- per taste
Chaat masala 1/4teaspoon
Turmeric – ¼ teaspoon
Tinospora Cordifolia powder – ¼ teaspoon
Water – 500ml
Method
Bring the water to a boil, boil half the content, and take off the heat.
Add the churn with the turmeric and let them settle for at least two minutes.
Pour the clear mixture into the mug
Add the chaat masala and rock salt according to your taste
Stir them properly and drink them.
You can add the above-spiced tea as a substitute for the early morning and evening beverages. It will benefit the metabolism, repair tissues, control diabetes, and enhances immunity and energy levels. Regular intake improves overall health and helps the immune system.
5. Cashew Nut cookies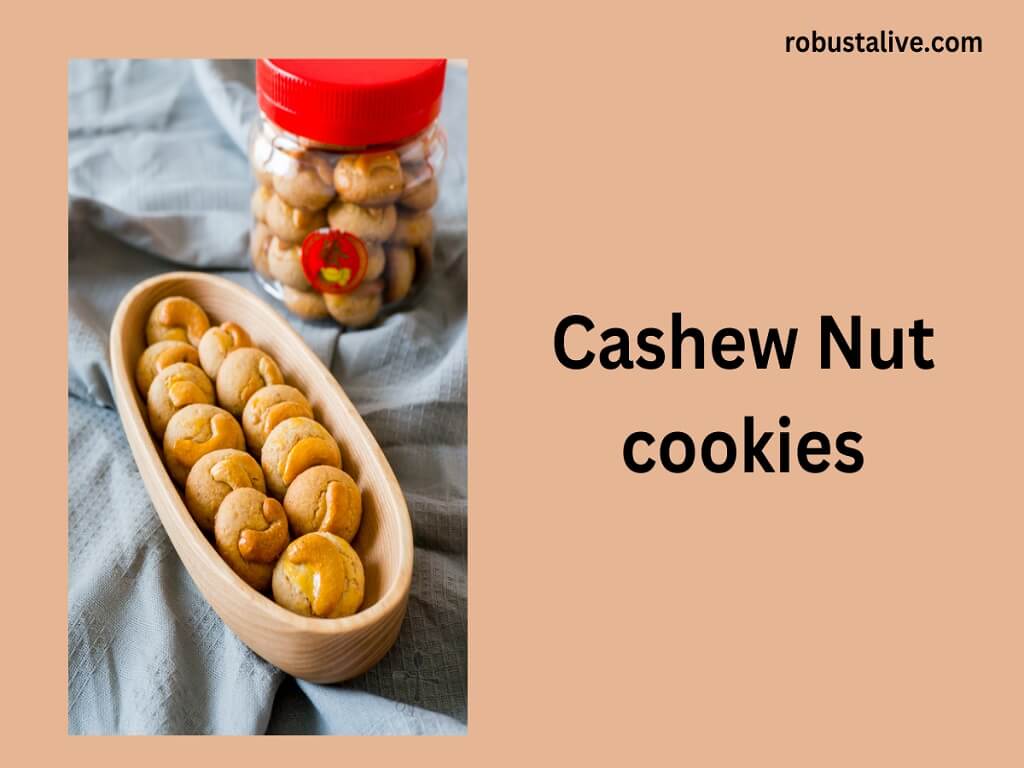 Nuts have some unsaturated proteins and fats with a range of minerals and vitamins. It lowers cholesterol levels, insulin resistance, and inflammation. A study published in the BMJ journal says a person should include 50 grams of cashews, almonds, walnuts, chestnuts, and pistachios.
Having at least 4 to 5 cashew nuts per day is suggested. Add them to your salad or toss them in the stir fry for your sugar-free desserts.
Ingredients
¾ cups of ghee
½ tsp of baking soda
5 cups of khaand
112 gm of cashew paste
20gms of chia or flax seeds
3 tbsp of plain yogurt
¾ cups of oats
1tsp of vanilla
2 cups of wheat flour
Methods
Take a large mixing bowl to mix all the ingredients mentioned except flour.
To form the cookie dough add the flour slowly to the mixture.
Keep the dough in the refrigerator for 1 hour to cool down.
Preheat the oven to 160 degrees Celsius, then roll the dough into 1-inch round balls.
Remove the batch from the oven and let them cool down on a cookie sheet till they harden.
Ayurvedic Diet Errors
Here are some typical lifestyle and dietary causes of diabetes in Ayurveda: The excessive intake of kapha irritating foods like curd, milk, and sugarcane, repeated food intake, jiggery, sedentary lifestyle, carbs rich food, lack of exercise or other physical activities, stress, genetic factors, fear, or other long-standing illnesses.
Overrated foods
Cinnamon: People believe it benefits in reducing the blood sugar level, but there is a lack of data to support this claim.
Sugar-free products: People claim sugar-free products are healthy, but that's false. Sugar-free processed foods still have a lot of calories, fats, and carbohydrates in them.
Brown rice: People assume brown rice is lower in glycemic index than white rice. But the fact is that brown rice and white rice have a marginal difference. It also gets damp while preparing this food.
Artificial sweeteners: Some artificial sweeteners have added preservatives and taste enhancers. Such taste enhancers do more harm than benefit. Sometimes these enhancers and additives are added without taking approval. It's essential to read the labels before making a purchase.
Ayurvedic Foods to Balance Kapha Dosha
A diabetic person should avoid overeating rice, potato, wheat, Corn flour, deep-fried foods, red meat, sabundana, and sweet fruits as much as possible.
Frequently Asked Questions (FAQs)
What to eat for Ayurvedic food recipes for diabetes?
Here are the few recommended foods by Ayurveda for diabetes patients:
Grains: barley, wheat, kodrava, saathi rice, and bajra.
High fiber diet: Fruits, vegetables, and grains like millet, whole wheat, and barley
Pulses: green gram, horse gram, toor dal, Bengal gram
Which is the best Ayurvedic plant for diabetes?
Here are the best plants that are used in the treatment of type 2 diabetes. Bitter melon, turmeric, Margosa tree, Holy fruit tree, Pomegranate, Margosa tree, Ivy guard, Tinospora, and Indian kino tree. Each plant has its unique benefits that help in the treatment of diabetes.
Which herb lowers the blood sugar level?
The bitter leaf, also known as neem, is an effective remedy that helps treat diabetes as they are rich in triterpenoid, glycosides, anti-viral compounds, and flavonoids. To make neem powder take some dried neem leaves and grind them in a blender till they smooth out.
Which herb is effective in controlling blood sugar levels?
Here are some of the most effective drugs that lower the blood glucose level:
Oregano
Rosemary
Aloe vera
Gymnemate Sylvestre or Gurmar
References
https://food.ndtv.com/food-drinks/ayurveda-for-diabetes-4-diabetic-friendly-recipes-to-try-1889609
https://www.thehealthsite.com/ayurveda/heres-what-a-typical-ayurvedic-diet-chart-for-diabetics-looks-like-766461/
https://timesofindia.indiatimes.com/life-style/health-fitness/health-news/ayurvedic-home-remedies-to-control-your-blood-sugar-levels/photostory/87608485.cms
https://www.hindustantimes.com/lifestyle/health/diabetes-ayurveda-expert-on-easy-tips-to-control-blood-sugar-in-just-15-days-101656573123067.html