Is Chipotle Healthy for You? Know The Facts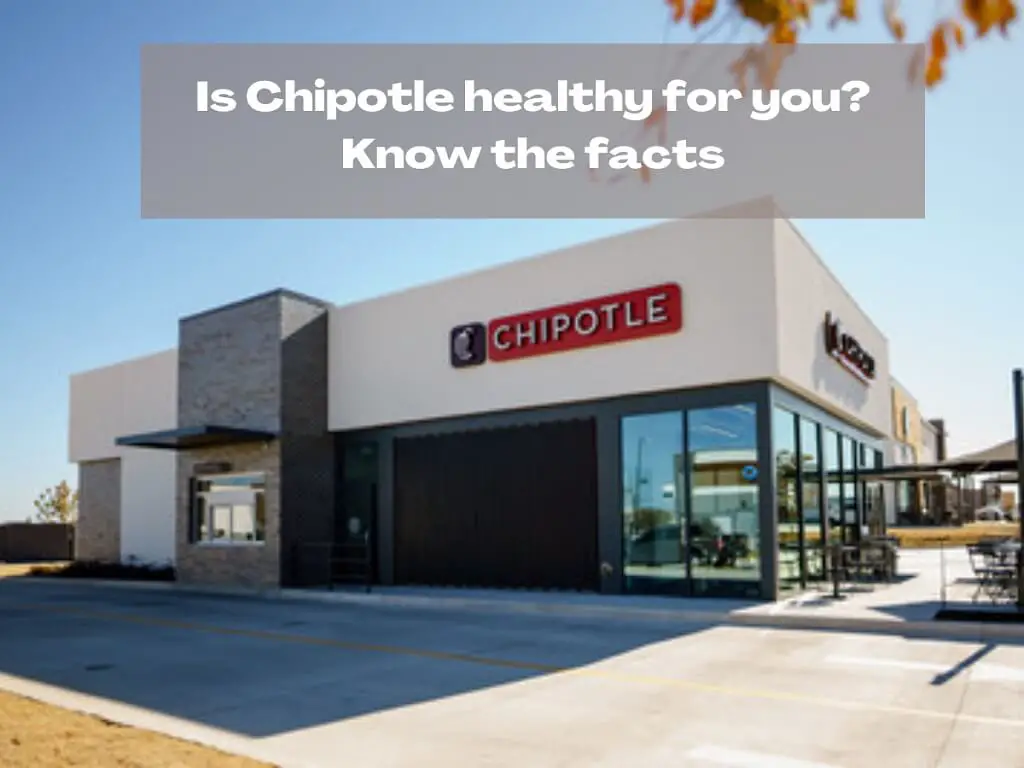 Chipotle is a fast-food restaurant chain in the USA that frequently takes the headlines for various reasons. However, the most astonishing fact is the claim that they make the healthiest fast food in the market is the most frequent reason the media constantly cover it. The statement has also been supported by a description of the quality controls and ingredient transparency. The actual query, though, is: Is Chipotle healthy for you?
The answer is yes, Chipotle is healthy for you—but only if you pick the right ingredients for your meal. Any meal from Chiptole's can be classified as healthy or unhealthy based on its ingredients.
What are the ideal ingredients, and can Chipotle food become unhealthy? Here in this article, we are addressing every question you may have.
Best and worst chipotle menu
Select a base: Bowl or Burrito
The base of your dish is one of the first decisions you make when approaching the Chipotle counter: burrito, burrito bowl, lifestyle bowl, taco, or quesadilla.
It brings us to our first healthy choice, which is straightforward.
Toss the wrap
Cut away the extra carbs that a tortilla or taco adds to the mix when selecting healthy food at Chipotle.
Switching to a Chipotle burrito bowl will significantly reduce your calorie intake because one large flour tortilla at the restaurant has a whopping 320 calories and 600 mg of sodium.
Not to worry! You don't have to cut out carbohydrates altogether. You won't need a second tortilla because most Chipotle entrees already include rice; you'll be more than satiated without one.
Try a bowl: Salad, Burrito, Lifestyle bowl
You could be thinking that salads are uninteresting. Because they have every fresh, Mexican-style topping you could ever want to create the salad of your dreams, Chipotle salads are significantly superior to ones you would make at home.
Burrito bowl
When you order a Chipotle bowl like this, you may build your burrito without the caloric wrap and include everything you'd like.
Salad bowl
Greens and a vinaigrette are the foundation of a salad bowl, to which you can add any of your preferred toppings.
Due to the absence of rice, one of the primary sources of calories, the salad bowl is somewhat comparable to a burrito bowl but has lower carb and calorie counts.
Lifestyle Bowl
The lifestyle bowl is an in-house effort to expand Chipotle's healthy menu selections to accommodate new diets, including Whole 30, low-carb, and the Keto diet.
A Chipotle Keto bowl is available in vegetarian, vegan, or meat-based varieties. To ensure that the meal is still full, high-carb ingredients like rice are left out and replaced with a variety of veggies and healthy fats from guacamole.
Say goodbye to guessing and trust that the Chipotle vegetarian bowl is one of the healthiest options to maximize your Chipotle nutrition. These bowls are convenient because they already have a predetermined ingredient list.
The best and the worst toppings and add-in
Are you trying to decide which of the seemingly limitless options for toppings is the best? Here are some of the worst and most excellent healthy toppings at Chipotle.
Best: Cauliflower rice with cilantro lime
One serving of this rice made from cauliflower has just 40 calories, so chow down while still getting a similar texture to regular rice.
Cilantro lime white or brown rice is the worst.
This rice is seasoned with cilantro and lime, but there are many other ingredients. The 210 calories and substantial serving of carbs in a standard-sized scoop. Ask the staff for a lesser serving if you want to enjoy your meal with natural rice because these carbohydrates will spoil your diet.
Due to its slightly higher fiber content and lower sodium content than white rice, which will keep you fuller for longer, brown rice is a somewhat superior choice. Ask for a combination of white and brown rice in your bowl if you enjoy white rice but want both advantages.
Best protein options
Compared to carnitas, which has the most calories (210), the proteins steak and sofritas have 150 calories each. Most of Chipotle's meat protein options are comparable, so pick your favorite and order it.
To reduce your saturated fat consumption, skip the meat, choose a vegetarian alternative, and fill up on pinto or black beans. Meats are a significant source of saturated fat, which we should only eat in limited doses.
Plus, you'll save some money.
Best: Eat lots of veggies
Load as much as you'd like on lettuce and grilled fajita vegetables that are rich in fiber and nutrients and have very few extra calories to make Chipotle stand out as a healthy fast food alternative.
Best pinto and black beans
In addition to the additional 8g of lean, plant-based protein that pinto or black beans provide, a serving has 130 calories, making your burrito bowl a protein power bowl.
Guacamole is the best
There is no denying that avocados are high in calories and fat, but we believe that the nutritional advantages of guacamole more than offset these drawbacks. The healthy unsaturated fats in guacamole will help practically all of your body systems and keep you fuller for longer.
Best green tomatillo chili salsa
The tomatillo salsa has the least sodium of all the salsas offered at Chipotle.
The Best Chipotle Healthy Food Combinations
For a healthy Chipotle meal, try combining these ingredients:
Salad and meat
Is Chipotle steak healthy? It's a common question we receive. And unquestionably, yes is the response. But when eaten with salads, they are more nutrient-nutritious.
Meat is frequently thought to be high in calories. For this reason, if you're in the mood for steak, order it with salad, fajita veggies, black beans, and green chile salsa. This order has 325 grams of calories in total. 32g of protein and 955 mg of sodium are both presents.
Protein-rich order
Do you want to discover which meat at Chipotle is the healthiest? Protein-rich chicken is the healthiest option. What you need to order is as follows: A bowl containing brown rice, chicken, salsa, beans—preferably black—and a little cheese.
This meat contains 50 grams of protein. There are 650 total calories and 1400 mg of sodium in this dish.
Attention Taco Lovers
It is for you if you want a healthy meal incorporating tacos. Get corn tacos with beans, fajita veggies, and lettuce for a balanced meal. If you'd like, you can also request some cream to go with the tacos. This meal will provide 10 grams of protein and about 426 calories.
Vegans' ideal combination
We advise you if you are a vegan and are wondering what the best dish at Chipotle is. You can ask for a bowl filled with guacamole, beans, sofritas, and vegetables from fajitas. Additionally, you may add brown rice to it for the ideal vegan meal.
Are Chipotle's brown rice meals healthy? People wonder. That certainly is. It is preferable to utilize brown rice in your meal rather than white rice because the latter contains fewer carbs. This meal has 820 calories and 26 grams of protein.
End words by the writer
People frequently inquire whether Chipotle is healthy, and the answer is yes. Brown rice, milk, cheese, and tacos should all be avoided if you want to reduce your calorie intake. Similarly, add more veggies and beans if you make the nutritious meal. Everything so depends on the ingredients you choose. Choose ingredients that are low in fat and live a healthy life.
Frequently Asked Question(FAQ's) About Is Chipotle Healthy For You?
Is Chipotle healthy or unhealthy?
An American fast-casual restaurant chain called Chipotle offers a variety of dishes with Mexican influences. Given its wide range of "genuine" ingredients and ability to be customized, Chipotle is frequently regarded as a healthy alternative for casual eating.
Is a bowl from Chipotle healthy?
This burrito bowl comprises a square 510 calories, 17 grams of fat, and a whopping 22 grams of fiber. It contains heart-healthy fats and lean protein to keep you feeling satisfied for a more extended period. This meal is decent, according to our expert.
Can I lose weight eating Chipotle?
A man shed 22 pounds after eating at Chipotle every day for three months. One of the hottest food trends in Silicon Valley right now is Tyler Marinelli's intermittent fasting diet, which includes frequent trips to Chipotle.
Is it safe to eat at Chipotle?
The restaurant crew at Chipotle is allegedly overworked and understaffed, which frequently results in infractions of food safety regulations. Workers claim that cross-contamination occurs often and that food isn't permanently stored at the required temperatures.
Can I eat Chipotle every day?
We don't advocate eating at Chipotle every day. I believe it is generally acknowledged that high sodium intake raises the risk of hypertension, heart disease, and stroke. Therefore, we do not recommend eating at Chipotle every day.
References
https://www.eatingwell.com/article/290597/how-to-order-healthy-at-chipotle/#:~:text=Chipotle%20is%20one%20of%20the,calories%20on%20a%20typical%20order.
https://www.purewow.com/food/is-chipotle-healthy
https://www.health.com/nutrition/is-chipotle-healthy
https://tofubud.com/blogs/tips/is-chipotle-healthy
https://www.today.com/food/chipotle-healthy-best-things-order-what-skip-t222388
https://www.goodhousekeeping.com/health/diet-nutrition/a21052740/is-chipotle-healthy/
https://www.glamour.com/story/is-chipotle-healthy
https://parade.com/1374364/emily-laurence/is-chipotle-healthy/
https://www.today.com/food/chipotle-healthy-best-things-order-what-skip-t222388