Torrid Size Chart – Everything You Need to Know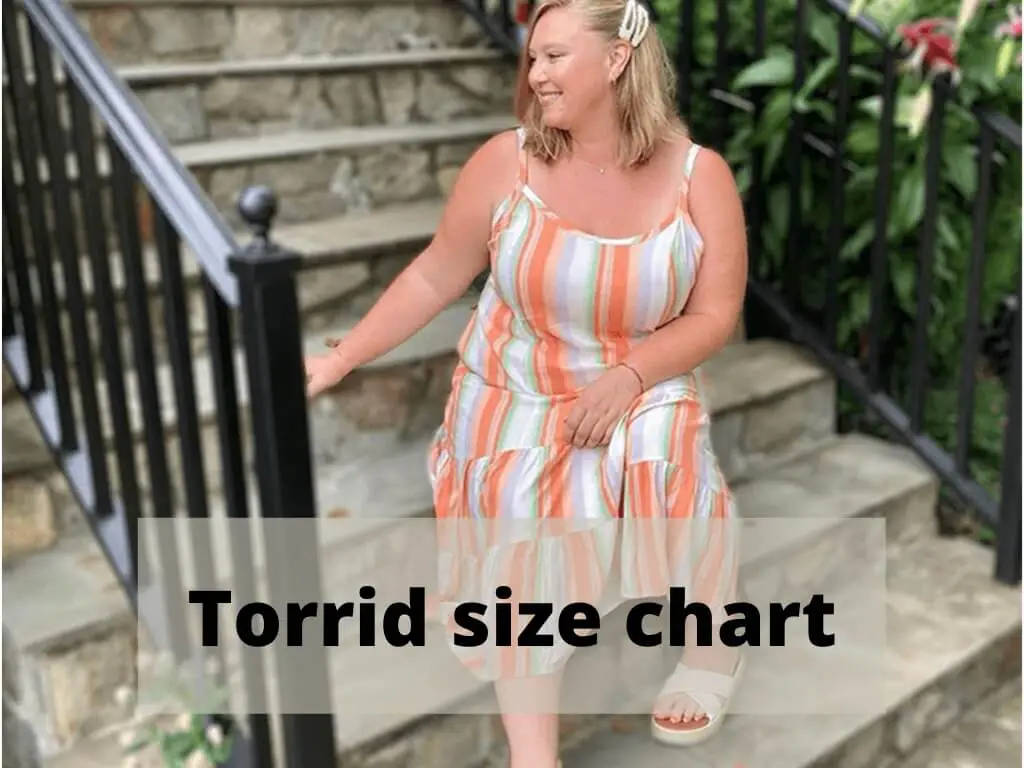 Finding clothes online that fit the body is no less than a lottery, especially for plus-size folks like us. How often have you been excited to try the latest trendy dress on your body, but it doesn't even go through your bum? So true! To reduce such online returns, it's essential to have a clear and consistent size chart on the website.
Torrid is winning on this crucial step. For customers' convenience, they have separate size guides for their different items like swimwear, apparel, wedding dresses, and bras. This article will get an in-depth look at the torrid size charts. And will give you some top tips to ensure that your next online sale will fit you.
Let's know about Torrid
You must have known about torrid before unless you lived under a rock. It's a top-notch fashion brand for sizes 10 to 30. This brand aims to make every woman feel confident, sexy, and most importantly, beautiful in their body and the clothes they are wearing.
The most important thing about this brand is that the perfect fit isn't just vital; it's in ethos. Besides, all of their products are fitted to actual women, not only mannequins. The first thing for torrid fit, so it isn't all about following the vogue fashion or latest fashion trends. It is all about creating a comfortable, timeless style.
Tip 1 – Know Your Measurements
Clothing sizes and differences are due to measurements. But remember that the sizes vary from person to person. For example, a size 20 in one store can be 22 in a second and 24 in another.
So before starting your next online shopping, I recommend you have your measuring tape with you. It can be extremely beneficial if you look from a store where you have shopped before. But this trick also works even if you have shopped from the same store before.
The torrid size chart works; here are 3 main measurements you need to know: hips, bust, and waist.
Bust
For bust measurement, place your measuring tape under your arms, and wrap it around the full part of your bust and your body.
Waist
Look for your belly button to take your waist measurements, as it's your natural waistline. Another way to take waist measurement is by creasing aside to see where your body has a natural curve.
Hips
The final measurement you will need for the torrid size chart is of your lower hips. Some brands even list it as "hips". Wrap the tape around to measure the widest part of the hip.
Centimeters or inches
Like many other brands, the torrid size chart is listed in inches. But the list is growing, and measurements are available in both centimeters and inches in many places.
Read More: How to Heal Chronic Lower Back Pain
Tip 2 – Check the fabric label
In addition to your clothes being cut, it's vital to know about the fabric. It depends on your clothes' fabric and how the clothes will fit you. Some clothes have a natural stretch to them, while some don't. The straitjacket you might order is a proper fit, but you can move your arm a single inch. Yep, it's a true story. To know about the fabric before placing your order.
Tip 3 – Read the reviews
Reviews are the ideal way to find out whether your purchase will be worth your money or not. The reviews will give you the idea of whether the items are the size mentioned and what the fabric feels like, and even you will get a few styling tips.
Torrid sizes
The torrid size chart is listed from 00 to 6 and ranges from a size 10 to 30.
00 sizes are equivalent to a US-M/L or an AU/UK size 12.
One best thing about torrid is that the sizes are available in 3 different ways, which means you don't have to be an expert to know your size.
Swimwear Sizes
To look spectacular at the poolside in your swimwear's one or two pieces, it's vital to have a perfect fit. Swim tops are present in both wired and non-wired forms. If you like the non-wired one better, then the vital measurement you need to have is of your under bust.
But if you like the wired one more, makes sure you have the accurate measurement of your bust from the widest part.
You need to have all the 3 measurements mentioned above for a one-piece. But, for two-piece depends on whether you are having the wired one or non-wired.
How to Find Your Perfect Shoe Size
Finding a pair of wide-fit shoes that don't smidgen your feet and are comfortable to wear is a difficult task. That's the reason I love torrid. You need paper, a pen, measuring tape, and your foot. Here are the 4 steps you need to follow:
Try to trace the outline of your feet by putting it on the paper.
Take a measuring tape and measure your feet' size from the toe to the heel.
Then take the width-wise measurement from the widest part of your feet.
Go to Torrid's official website and compare the torrid size chart with your measurements.
Frequently Asked Question (FAQ's)

T

orrid Size Chart
Is torrid just for plus size?
Yes, torrid is a plus-size clothing brand that makes comfy, cute, and sexy clothes. The plus-size clothing is designed to make every person confident in their sense of style regardless of their size. All these clothing tests real women for style, fit, and comfort, never on mannequins.
What is considered a plus-size?
According to the fashion industry, plus size is 18 and over, sizes 1X to 6X, 7X, and up. However, in Britain, plus-size clothing was once known as outsize, losing favor.
Does plus size mean fat?
No, plus size doesn't point towards obesity or fat. It's possible to have a slightly larger body frame but healthy body weight. Besides, the size and healthy body weight chart vary from person to person.
What is Overweight vs. obese?
Overweight and obese both indicate having excess weight. Being overweight means having more weight that is taken as healthy according to your height and age. At the same time, obesity means being obese, i.e., body mass index over 30 with excess body fat.
Is it OK to be plus-size?
Of course, there is truly no harm in that. A model, Candice Huffine, states that society has turned the plus-size word into a bad four-letter word for no matter what reasons. It is because there are so many connotations and misconception around it.