Tanning with Acrylic Nails: 12 Tips to Protect Them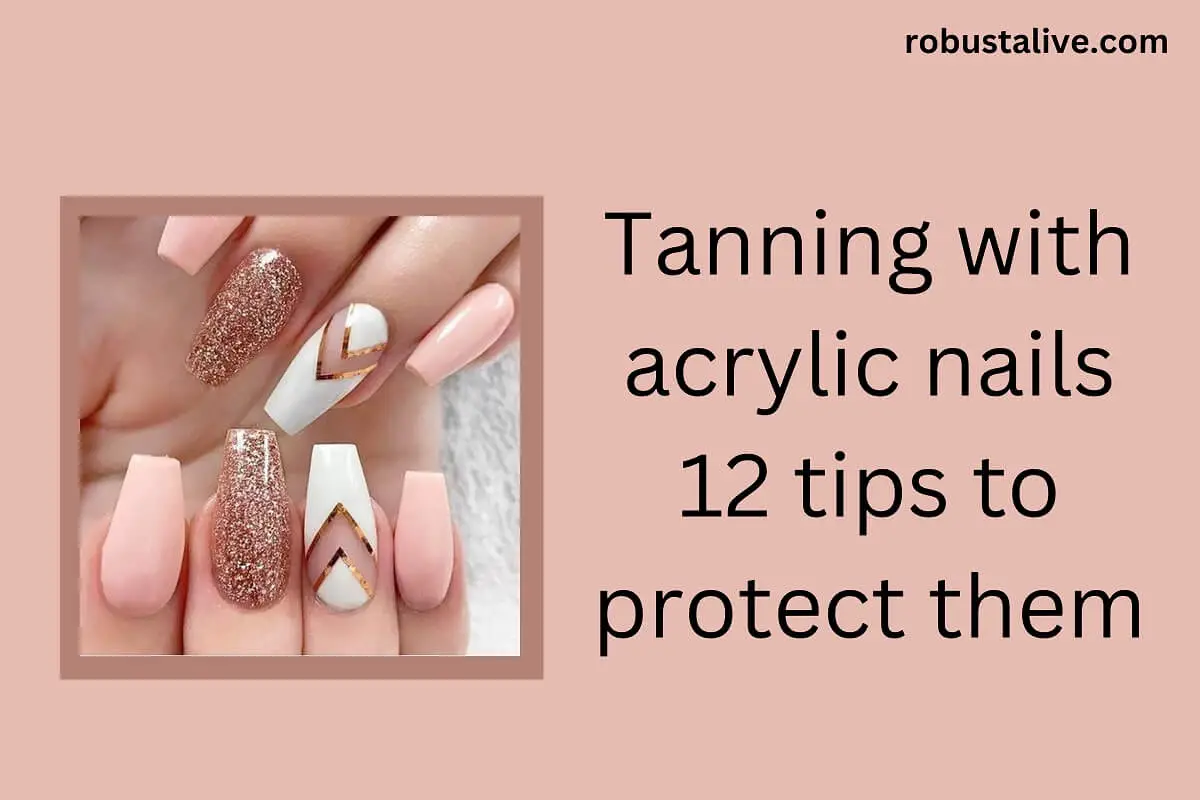 Acrylic nails have never been so popular these days. Girls and women get acrylic nails in different shapes, designs, sizes, and colors. Besides, everyone shows their individuality in their nails by expressing their unique creativity.
The maintenance of acrylic nails needs special attention and care. Some things are a complete no for people having acrylic nails. But the question arises, tanning is one of them. Don't worry; we have the perfect solution for you on how to protect your tanning with acrylic nails, and this article is a complete guide that explains how you can enjoy a golden glow without ruining your nails.
Can you go for tanning with acrylic nails?
Acrylic nails and tanning beds are, unfortunately, not a good combination. The tanning bed imitates the sun's ultraviolet rays to produce an artificial tan. The tanning beds work by increasing the melanin production in your skin. Melanin is a natural pigment that gives a tan look to your skin. Women go to tanning salons to maintain a healthy tan look on their skin.
Tanning beds look similar to the gel lamps standard in nail salons, which most of us think isn't harmful to nails. But unfortunately, they aren't; they can easily mess up your expensive manicure. UV rays can easily damage your acrylic nails' look, whether natural or fake. The effect on your nails depends on the acrylic nails' quality, exposure time, and intensity.
The effect of tanning beds on the acrylic bed doesn't stop you from tanning; instead, take preventive measures.
12 Best tanning tips to protect Arcylic nails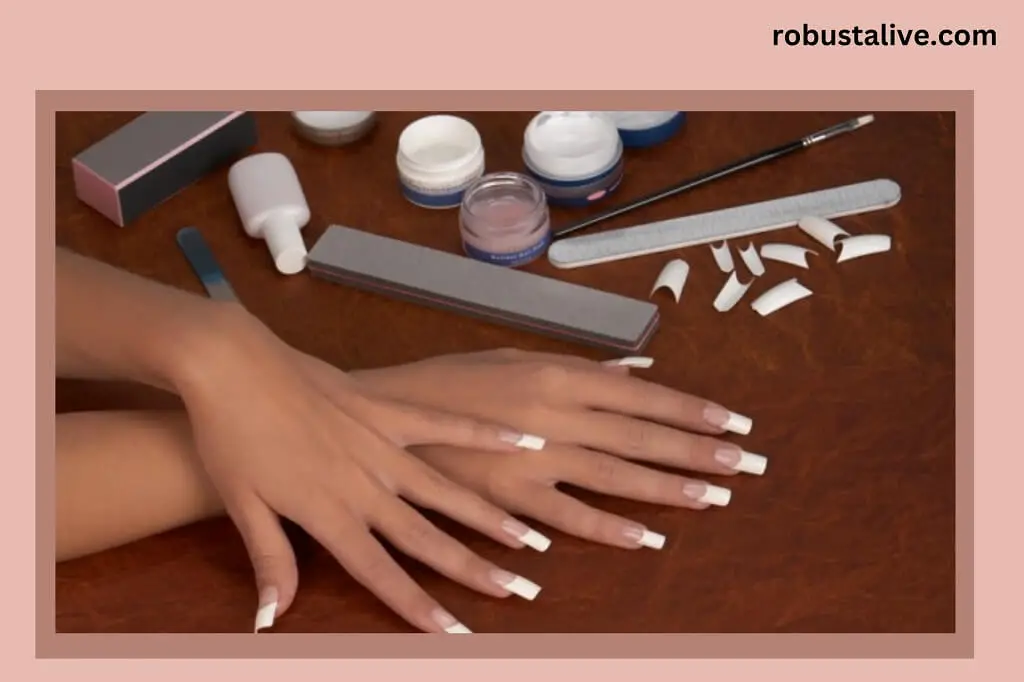 For people who love to have long and beautiful nails, acrylic nails are the most preferred choice. However, here are a few tips to protect acrylic nails while tanning to keep them healthy for longer.
1. Base coat
The basecoat benefits in protecting the nails from harmful ultraviolet radiation. Before tanning, ensure you have evenly applied the base coat and that it is perfectly dried.
2. Take a break from the sun
A lot of sun exposure can damage the nails, so take breaks between your tanning sessions. It will avoid the acrylic nails' discoloring, patching, and damage.
3. Use sunscreen
Sunscreen can benefit in protecting your nails from discoloring. Make sure you reapply the sunscreen every few hours for the best possible results.
4. Use a nail gel
Nail gel work as a protective shield against UV rays. Take the time to apply the nail gel evenly to your nails, avoid getting it on your hand and make sure you reapply between sessions. Give at least 15 minutes for the proper drying.
5. Avoid acetone
Acetone can harm acrylic nails during tanning sessions, so it's best to avoid it. If you want to use it, dilute your acetone with water.
6. Lower setting on tanning bed
The ultraviolet light emitted from your tanning bed can destroy your acrylic nails. To prevent any damage like discoloring, use a lower setting. It will benefit in preventing any discoloring or damage to your nails.
7. Wear gloves
Wearing gloves will benefit in avoiding the direct exposure of UV rays to your nails. By avoiding direct exposure, your nails will not be harmed during the tanning sessions.
8. Clear top coat
A top coat will give your nails an extra layer of protection in the tanning sessions. After applying the tanning solution, use a clear top coat for your acrylic nails. Before the start of your tanning session, let your top perfectly dry. It will avoid any UV rays damage to your nails.
9. Avoid chlorinated water
Chlorinated water in swimming pools and hot tubs can damage your nails. Chlorinated water can damage the color of your acrylic nails.
10. DHA-free tanning lotion
People with sensitive skin issues who want to avoid any potential skin reaction should use DHA-free acrylic nails. Undoubtedly, acrylic nails have become a fashion statement, but they also require extra care and protection, especially during tanning sessions. By using the DHA-free tanning lotion, you can get a perfect tan without any potential harm to your nails.
11. Avoid harsh chemicals in nail paint
Nail polish having harsh chemicals can damage your acrylic nails. Make sure you have read the labels of your nail paints. Avoid nail polish having formaldehyde and acetone in them.
12. Proper nail care
To keep your acrylic nails healthy, they require special care. Make sure you are cleaning them with mild soap. Avoid using any harsh chemicals on them.
Conclusion
Acrylic nails have now become more than just a manicure. They are allowing us to express our individuality. You can stand out by the uniqueness or can stick to the simplicity. It all depends on your preference. With acrylic nails, you can do everything like a person without them, but tanning may not be the best idea.
A tanning bed can result in the yellowing of the acrylics, while self-tanning and spray tanning can cause stains. You can avoid such problems by following the protection mentioned above tips.
FAQ's
How to protect my acrylic nails from fake tan?
There are many different ways to protect your nails from fake tan. Nail varnish can prevent fake tanning from damaging your nails. You can also apply the extra coating of your usual nail polish. It's not vital to use the same color as a clear one to give the same protection.
Do sunbeds makes your acrylic nails yellow?
Acrylic nails usually get yellow when exposed to UV rays or sunlight for extended periods. Depending on the acrylic nail quality, some nails discolor faster than others.
Should I spray tan before or after nails?
You should get your nails done before getting a fake tan. There are many ways to protect acrylic nails from tanning, but after getting a fake tan, you will be unable to soak your hands and feet in the soap water for the manicure and pedicure. So to get the proper exfoliation and cleaned cuticles, get your nails done before a tanning session.
Will acetone remove the fake tan from the nails?
Using dilute acetone can remove the self-tanner from acrylic nails. Use it the same way you use baby oil or vinegar. Rub it on the tan part and let it sit for a minute. Use a cotton ball or a tissue to remove the acetone.
References
https://www.leaf.tv/articles/how-to-protect-artificial-nails-in-a-tanning-bed/
https://thirstyfortan.com/protect-acrylic-nails-when-tanning/
https://thirstyfortan.com/protect-nails-from-spray-tan/
https://primeskincaresolutions.com/tanning-with-acrylic-nails-guide-and-tips/
https://bronzecrunch.com/how-to-protect-acrylic-nails-when-tanning/