How To Get Signed Off Work With Back Pain?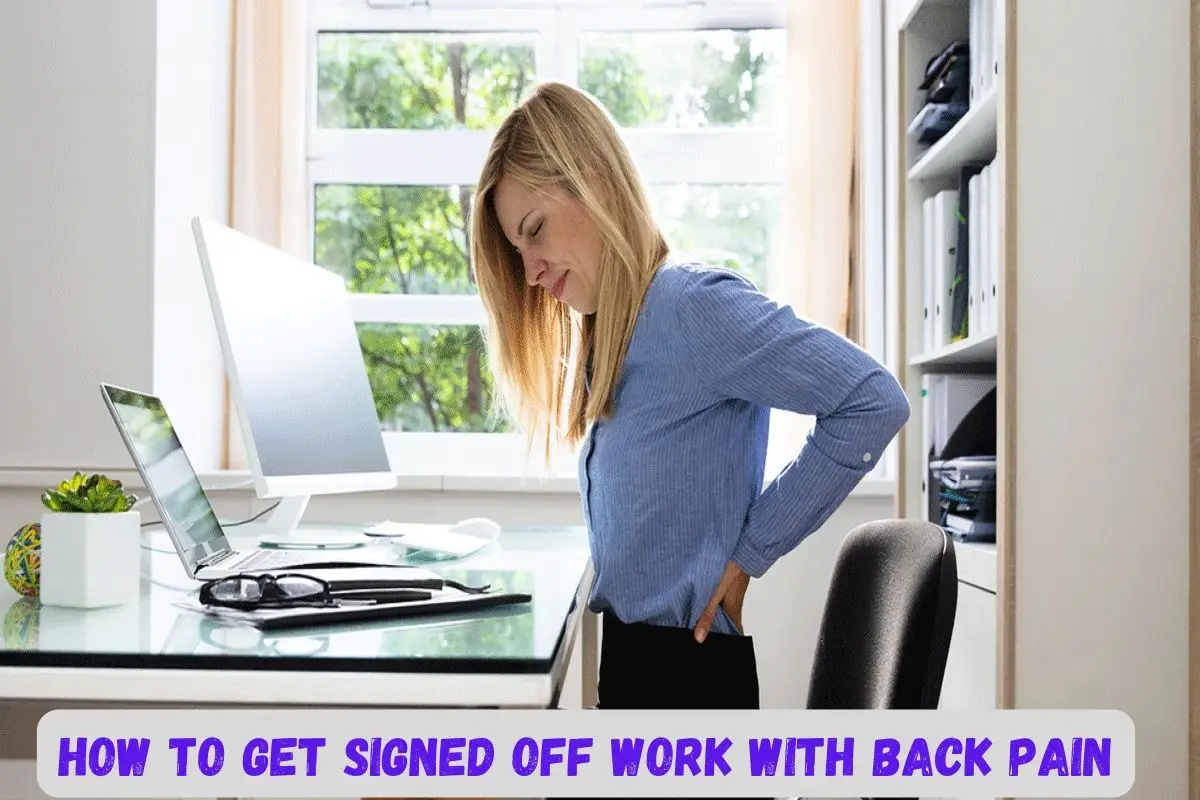 In today's post, I will cover: What steps can I take to get signed off work with back pain? How long can I be signed off sick for with back pain? I will also answer these questions: Can I take extra sick days' leave if I have chronic back pain? Can my employer force me to come to work if worried about losing hours? What rights do I have regarding medical appointments when off work with back pain?
Have you ever been off work with back pain and wondered how to get signed off work? If so, you're not alone. If you have back pain and need to get signed off work, getting the time off can be a tricky business. The last thing you want to do is call in sick as if your boss or HR department knows that you have back pain, then they may not believe it's real. To avoid this scenario, here are a few suggestions on how to get signed off work with back pain.
What Can I Do While At Work While Having Lower Back Pain?
Nobody wants to drag themselves to a job they hate while in agony. The problem is that many people who call in sick during sickness season get into trouble with their bosses due to having called off work in the past. But if you are signed off work, it will make your life much easier next time a bug hits.
Also, acute and chronic back pain is one of the most common reasons for workers to be on the government-funded Statutory Sick Pay scheme. Talk to your employer if you are experiencing back pain, as it might be able to arrange more suitable work to avoid you being off work. Also, you may consider taking OTC medications for back pain, for instance, ibuprofen, naproxen (NSAID), and aspirin.
Steps That You Can Take To Get Signed Off Work With Back Pain
I'm sure we all know how difficult it can be to get signed off work with back pain. Your boss is often reluctant to let you take time off even when you're desperately in need of rest. And, let's not forget the bureaucratic hoops that you have to jump through just to get medical intervention.
But whether it's a rotational back injury or ongoing spinal stenosis spondylolisthesis, there are ways that can help you get signed off work for back pain, and I'm here to help. I've got lots of insider tips and strategies which will be sure to make your journey that little bit easier. Here are some pragmatic steps:
Write An Email To HR And Your Manager.
Writing a leave application for back pain to the HR and the manager-in-charge doesn't take much. It is best to notify them immediately, explaining what caused the injury in the email and asking for sick leave. Many think that calling in sick for back pain may not be okay, but the truth is it is a legit reason to take a day off work. So, don't brush off if you experience back pain or strains.
Here's a scenario to help. Hi, I have been on sick leave since last Thursday with acute lower back pain. I was due to return to work this Thursday and have just been signed off for a further 6 weeks. I have no idea how long my employer has to allow me to be off work? I just feel like they are trying to get rid of me. Here's what you need to know.
According to the Centers for Disease Control and Prevention, acute back pain lasts for less than three to four weeks. But, if you are experiencing back pain for more than 10-12 weeks, it is chronic.
Show Them The Evidence
If you're suffering from back pain and want to get signed off work, it can be frustrating to think that your boss may not understand. How can you make your manager believe that your back pain is actually legit? It is better to consider attaching a doctor's signed-off note for back pain along with your email. Also, attach prescribed physical therapy and any related medical documents along with the email.
Ultimately, the goal should be to provide your employer with a feasible reason for why you can't be at work. If you follow the above steps, provide your employer with as much evidence and supporting information as possible, and provide a logical explanation for your condition, you should have no trouble receiving the time off that you need.
How Long Can I Be Signed Off Work With Back Pain?
For most people, being signed off work for longer than a week is the last resort, and they get back to work within 3-4 weeks. It is uncommon for workers to take leave for more than 5-6 months for back pain. The duration of sick leave for back pain depends on whether it is acute or chronic back pain.
What Should I Do When I Get Home From Work With Back Pain?
Tackling a job like a construction worker is no easy feat, and even if you're not using a jackhammer or lifting huge beams, it's still going to cause strain on your body. That being said, back pain plagues many people because of the way their bodies are designed. However, there are solutions to your back pain, especially if you're dealing with the aftermath of repairing damage caused by something like Hurricane Harvey.
Remember that taking prolonged bed rest is not beneficial for back pain. The sooner you start doing your day-to-day activities, the better it is for recovering from back pain. Consider doing stretching exercises and back stretches when you get back home. When at home, keep your back straight and bend your knees. Doctors recommend trying ice and heat compression to relax tight muscles and to get relief from back pain.
Can I Ask For Extra Sick Days If I Have Chronic Back Pain?
It's essential to have realistic expectations about back pain recovery time. A pain that stems from hidden issues may take a while to heal, especially if you are experiencing chronic or recurring back pain. If you are just experiencing the temporary pain of an accident or simple muscle spasms, you won't need as much time. That said, you must take adequate time to recover from chronic back pain, and it generally takes about 10-12 weeks to recover. If you didn't yet recover after 12 weeks of sick leave, you could ask them for extra sick days to recover from back pain.
Things To Keep In Mind
If you find yourself constantly signing off work with back pain, here are a few things to keep in mind. Taking sick leave constantly is one of the reasons why you could get fired. Work and back pain just don't mix. Employees need to take their time off, and they should be rewarded with employer-provided accommodations when they need them. Employers must also fill out paperwork to ensure employees are getting the benefits they deserve — otherwise, everyone loses.
Work-related lower back pain can lead to long breaks from work, either because of ongoing symptoms or surgery. Physiotherapy treatment, having a positive attitude, along with support and guidance from your employer, can help you get back to work faster.
Conclusion
Hopefully, this guide will help you if you ever find yourself in a situation where you need to get signed off work with back pain. But whether your company follows similar policies or not, I'm a strong advocate of these foolproof methods of getting signed off work with back pain. Bookmark this page and keep it close for when you need it.
Sources
Acute Low Back Pain | Centers for Disease Control and Prevention. (Accessed at https://www.cdc.gov/acute-pain/low-back-pain/index.html)
Home remedies for low back pain | WebMD. (Accessed at https://www.webmd.com/back-pain/features/manage-low-back-pain-home)
Physiotherapy Techniques | NHS UK. (Accessed at https://www.nhs.uk/conditions/physiotherapy/how-it-works/)