How to Eat Meal Replacement Shakes for Weight Loss?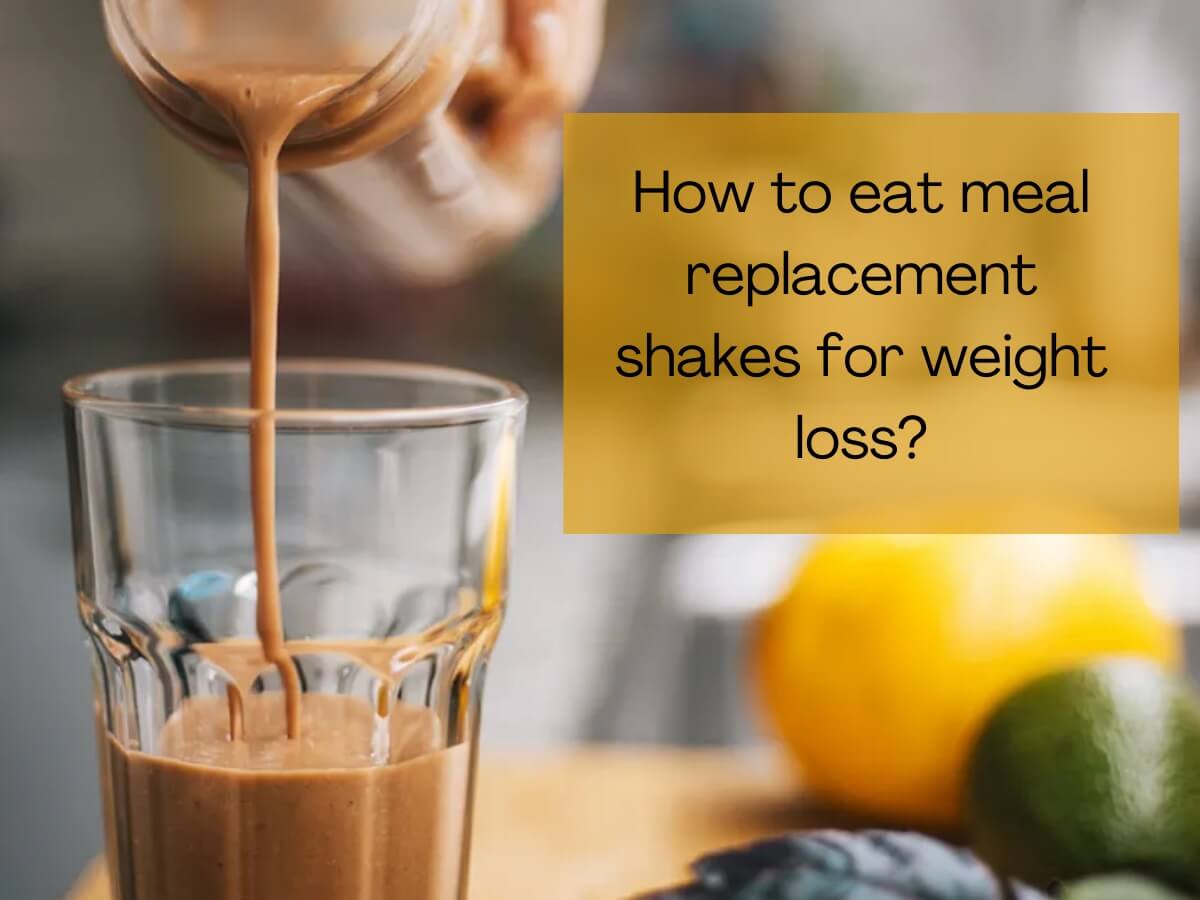 Unlike protein shakes, meal replacement shakes are beneficial for providing the nutrition of a full meal. Some come in a bottle and can, while some are in powder form that we can mix with milk or water.
Most meal replacement shakes contain 200 to 400 calories and a good amount of essential minerals and vitamins. It makes the meal replacement shakes a healthy and nutritious way to get the low-carb meal on the go. However, its nutrients and ingredients composition vary concerning proteins, carbs, and fat.
In this article, you will find all the details on "How to eat meal replacement shakes for weight loss."
What is a meal replacement shake?
Meal replacement shakes are special drinks designed to replace breakfast, lunch, and dinner. These drinks are rich in nutrients but have fewer drinks than you would eat in your meal. If you need help managing your appetite, try looking for replacement shakes rich in protein.
On average, a man eats around 2000 to 3000 calories daily, and a woman eats between 1600 to 2400 calories daily. According to the expert's recommendation, your diet must contain
Whole grains
Fruits
Vegetables
Oils and fats
Dairy products like yogurt, cheese, and milk
Proteins like eggs, meat, bananas, and seafood
Though meal replacement shakes don't have fruits, vegetables, and grains, they are rich in nutrients compared to these foods.
How do meal replacements shake work?
Meal replacement shakes are rich in protein, so that means they do make you feel full but without adding any additional calories. It also benefits in losing weight without losing any muscle mass. Some meal replacement shakes are premade, and you can purchase them in a single-serving bottle. Whereas other comes in powder form, you can prepare them by adding milk or water.
Pros of Meal replacement shakes
Rich in Nutrients
Meal replacement shakes are one way to ensure you have a healthy and nutritious diet when you don't have time to eat. It's easy to get distracted by fast-food restaurants, but many options aren't healthy. Besides, you will have to spend more on an unhealthy burger than a healthy meal replacement shake.
Low Calories
A meal replacement shake is an excellent option if you are trying to lose some weight. If losing weight makes you hungry, then a meal replacement shake can benefit you in overcoming the obstacle.
More Fiber
Like protein, fiber plays a role in making you feel full. Fortunately, meal replacement shakes are rich in fiber that benefits healthy digestion and avoids getting bloated and constipation.
Weight loss
According to the research, meal replacement shakes make benefit weight loss. In one study, two groups of people who were trying to lose weight in 3 months were tracked. In the end, the study shows that the group that didn't have any meal replacement shake lost 1.5% of their initial body weight, while the group that was using meal replacement shakes lost around 7.8%.
Cons of Meal Replacement Shakes
To deliver the complete message through my article, I must tell you about the cons of meal replacement shakes.
Artificial ingredients
The powder mixes are processed; therefore, the meal replacement shakes have different ingredients. The artificial ingredients benefit the product's preservation and boost its nutrients. Some of the meal replacement shakes have sugar that helps enhance their taste. Make sure you are carefully reading the labels.
Checking for quality 
Some of the shakes work in replacing your meal, but their quality is not up to expectations. Look on the label for at least 3g of fiber in your shake. The protein should at least be equal to or higher than the amount of carbohydrate present in your shake.
Aid in avoiding unhealthy food
Meal replacement shakes are convenient and portable. In addition, they benefit from resisting the temptation to have processed and unhealthy foods. The biggest hurdle in our weight loss journey is our time making healthy meals.
During work overload and a stressed lifestyle, it's much more convenient to grab processed food or fast food. Unfortunately, these foods can have a severe impact on your health.
Most of them are full of refined carbs, sugar, and artificial ingredients; they also lack nutritional value. Processed food with high sugar, fat, and salt content can activate our brains' pleasure center, leading to overeating.
Meals made from healthy whole foods are the best option for losing weight, but unfortunately, it's not always a practical option. Compared to fast foods, meal replacement options are a healthy and delicious alternative to fast foods, and these are easy-to-make drinks.
Faster weight loss
Reducing calories is a vital step toward losing weight. However, it's pretty challenging to stick with a low-calorie diet, especially if you end up with a hunger feeling. In such cases, meal replacement shakes make you feel full for more extended periods and with fewer calories.
Many recent studies suggest that replacing one or two meals with meal replacement shakes speeds up weight loss. In one of the analyses, it was found that the participants following a partial meal replacement diet plan lost about 5.6 pounds in three months compared to those following a food-based, reduced-calorie diet.
Amusingly some people who were following the meal replacement plan dropped themselves out of this study. Maybe it was easier to follow. In addition, four out of seven studies report that meal replacement is more helpful for weight loss than traditional diets. At the same time, the remaining three studies found no difference in weight loss.
One study claims that people on a low calorie, low fat, and controlled diet lose the same amount of weight as those taking meal replacement shakes. In comparison, some studies prove that weight loss in diabetic patients is faster with meal replacement shakes.
End words by the writer
In a study, people consuming liquid meal replacement shakes lose 1 to 2% more weight in diabetes than a strict diet based on a diabetic exchange system. Besides, people having meal replacement shakes have lower LDL cholesterol levels and fasting blood sugar.
Hence according to the majority, meal replacement shakes in type 2 diabetes contribute to slightly more significant weight loss than the traditional diet plans. Meal replacement also shakes aid in the maintenance of your ideal weight after weight loss.
How to eat meal replacement shakes for weight loss FAQs
Can I eat anything with meal replacement shakes?
Food isn't only fuel, and it is meant to be enjoyed. Though you may not agree meal replacement shakes shouldn't replace your entire meals. You should have some food along with this meal replacement shakes.
How many meal replacement shakes should I have in a day?
Experts recommend having one or two meal replacement shakes daily for a short period, and selecting a meal replacement shake that correctly replaces a part of your healthy and nutritious diet is vital. For example, a person who doesn't enjoy eating vegetables can have a meal replacement vegetable shake.
Are meal replacement shakes healthy for weight loss?
Meal replacement shakes are rich in protein and fiber that make you feel full for more extended periods. It also helps with healthy digestion, so you may not get constipation or feel bloated. Besides, many studies prove the benefits of meal replacement shakes in weight loss.
Do you mix meal replacement with water?
Unlike protein shakes, meal replacement shakes contains the nutrition of a fully healthy and nutritious meal. Some of these shakes come in prepared canned bottles, and some come in a powdered form that can be mixed with water and milk.
References
https://www.webmd.com/diet/news/20000529/diet-shakes-can-help-control-weight#1
https://www.webmd.com/diet/ss/slideshow-not-losing-weight
https://www.webmd.com/diet/protein-shakes
https://www.healthline.com/nutrition/why-refined-carbs-are-bad
https://www.healthline.com/nutrition/how-to-lose-weight-as-fast-as-possible