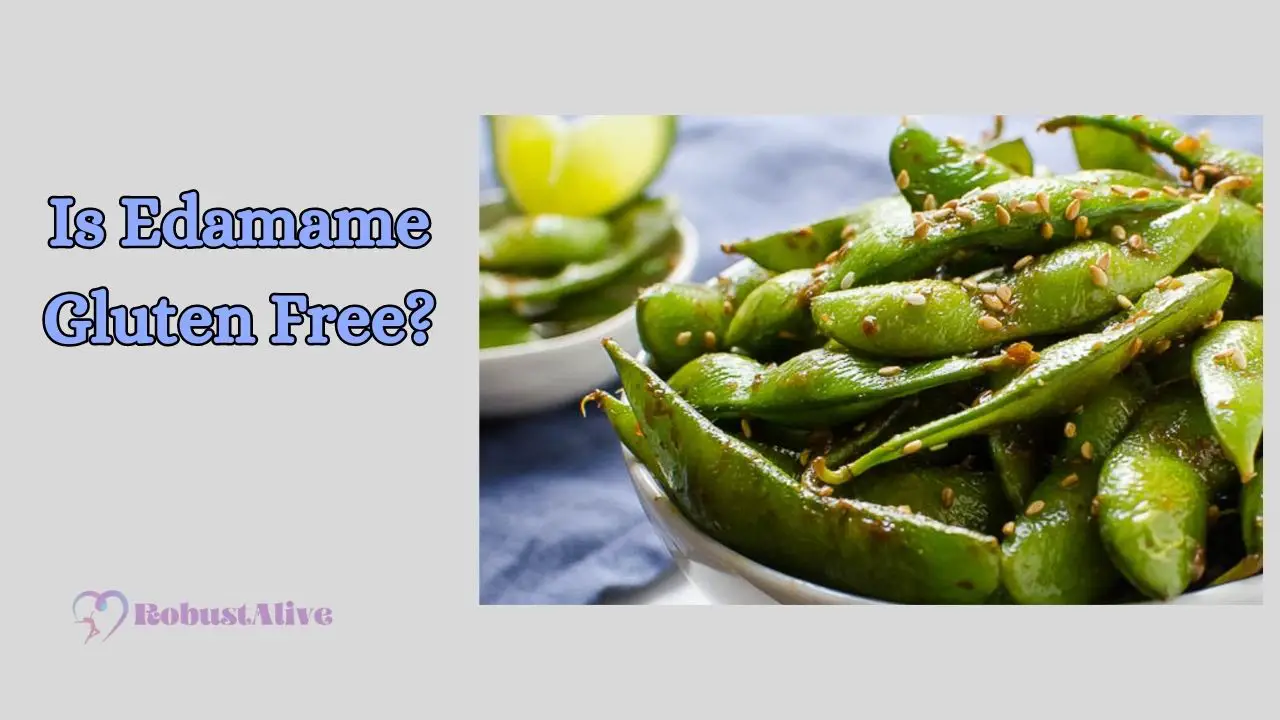 Welcome to the Edamame bean universe! Do you want to learn more about this delightful Japanese treat? So you're in the right place. If you have a gluten allergy,
You may wonder if Edamame is gluten free?
Yes! The veg bean is free of gluten. It is a kind of green soybean. This vegetable bean is a pure organic food. Though this is a kind of bean, it does not contain gluten. But cross-contamination is possible when the beans are processed or prepared with other gluten-containing foods.
We will examine the gluten content of these green beans in this article. Also, identify whether it's a safe choice for people with gluten sensitivities. Let's dive in and find out if this healthy treat contains gluten!
Does Edamame Contain Gluten?
Edamame is the young soybeans. It is harvested before they ripen or harden. They are a popular, plant-based food. But is edamame healthy? The food may have various health benefits. Moreover, it's gluten-free and low in calories. Also, it contains no cholesterol. According to the United States Department of Agriculture, beans are "soybean that can be eaten fresh and are best known as a snack with a nutritional punch".
Edamame nutrients and gluten content you can find as follows,
Beans that have been prepared and frozen contain
73% water,
12% protein,
9% carbs,
and 5% fat.
A 100-gram serving of the beans serves as a good source of micronutrients.
folate – 78% DV,
manganese – 49% DV, and
vitamin K- 26% DV,
As well as it contains energy in the form of 507 kilojoules (121 kilocalories) and high levels of protein and dietary fibre of 20% or more.
Fat content contains
361 mg of omega-3
1794 mg of omega-6 fatty acids.
Protein Content
Approximately 8 to 9 grams of plant-based protein per 1/2 cup (85 grams) serving of cooked Edamame.
After looking into the nutrition facts and protein content, we learn there is no gluten. So it's evident that this bean contains no gluten.

Can I Safely Include Edamame in A Gluten-Free Diet?
Eating Edamame is risk-free for those with celiac disease. Since it is inherently gluten-free as soybeans contain no gluten. Basically, gluten is a protein you find in wheat, barley, rye, and products made from these grains. It causes celiac disease. It's an autoimmune disorder. But the good news is that those who are gluten intolerant or have celiac disease can consume it because it is nutritious and safe.
People with celiac disease should avoid any additional seasonings or sauces. Because some of them contain gluten. It's essential to check the ingredients and confirm that any flavorings or sauces used are free of gluten if you want to make sure the dish is gluten-free.
Read More: Doxycycline Ruined My Life
Is Spicy Edamame Gluten Free?
Spicy Edamame is made by seasoning and cooking the beans with various spices and flavourings. The specific ingredients and preparation methods vary. However, the ingredients for the dish are as follows:
Young, green soybeans mean Edamame
Red pepper flakes, cayenne pepper,
Chilli powder to make the dish spicy
Garlic
Soy sauce
Sesame oil
Sesame seeds for garnish
Salt and pepper according to taste
Optional additional seasonings like ginger, lime juice, rice vinegar, or other spices. Also, herbs depend on the flavor you desire.
Some soy sauces contain gluten. That's why the spicy food is not gluten free. It harms people with gluten sensitivity. But you can use tamari instead of soy sauce for a gluten free option. However, check the label of the products to see if they contain any elements that have gluten.
Are There Any Gluten Free Edamame Brands Available?
Some products that contain gluten-free are Pf Chang's and Birds' Eye Edamame. The dish typically consists of steamed beans with regular salt or Chang's signature spicy salt seasoning. Both versions of the dish should not contain any gluten-containing ingredients. Besides these, more brands provide gluten free Edamame.
These particular brands are:
The Only Bean
Explore Cuisine
Seapoint Farms
Cascadian Farm
Woodstock Farms
Trader Joe's
Whole Foods Market 36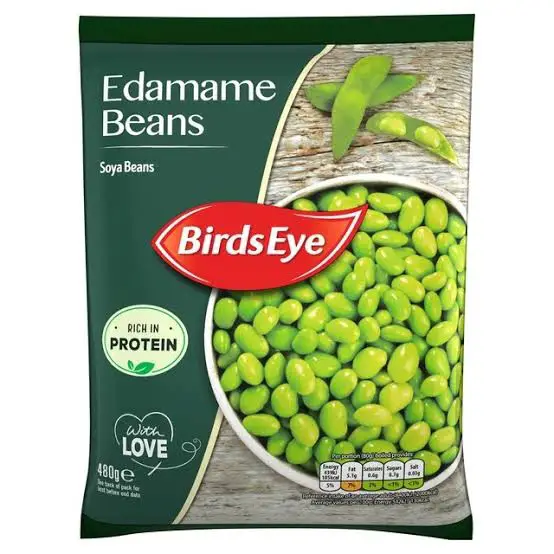 Are There Any Gluten Free Edamame Recipes to Try?
Many delicious free-of-gluten Edamame dishes are available. You can try the recipes listed below:
Edamame with Garlic: Steam or boil the beans. Then add minced garlic, gluten free soy sauce or tamari, and sesame seeds to taste and garnish.
Edamame with Spice: Make the dish as Edamame with garlic recipe. But add cayenne pepper or red pepper flakes for a spicy kick in the mouth.
Hummus: first, blend the veg beans, tahini, garlic, and olive in a food processor. Continue mixing until smooth. Then add salt, pepper, and spices to taste. Adjust consistency with water.
Blend again until creamy. Transfer to a serving dish. Drizzle with olive oil and lemon juice. Serve with fresh vegetables, gluten-free crackers. You can serve hummus as a dip.
Salad: In a bowl, first take a cucumber, cherry tomato, red bell pepper, and parsley. Mix them. Now add rice vinegar, olive oil, honey, salt and pepper. Toss to mix well. Sprinkle some sesame seeds on top for extra flavor and crunch.
Fried Rice: Add cooked and shelled green beans with vegetables, cooked rice, and gluten free soy sauce. You can choose vegetables according to your preference. Prepare gluten-free fried rice as a carbohydrate and protein source.
Avocado Dip: Cook the beans with ripe avocado. Add lime juice, cilantro, and garlic to make a creamy dip. Add salt for taste. Serve it with vegetable sticks or gluten-free tortilla chips.
Stir-Fry: Combine the immature soybeans with bell peppers, broccoli, carrots, and your preferred gluten free sauce or seasoning to make a tasty and eye-catching stir-fry.
Pasta: Prepare your preferred gluten-free Edamame pasta. Top it with young soybeans, basil, garlic, pine nuts, olive oil, and nutritional yeast pesto. In the same way, you can make Edamame spaghetti.
Sushi Roll: Add avocado, cucumber, and other fresh vegetables to an edamame sushi roll for a gluten-free option.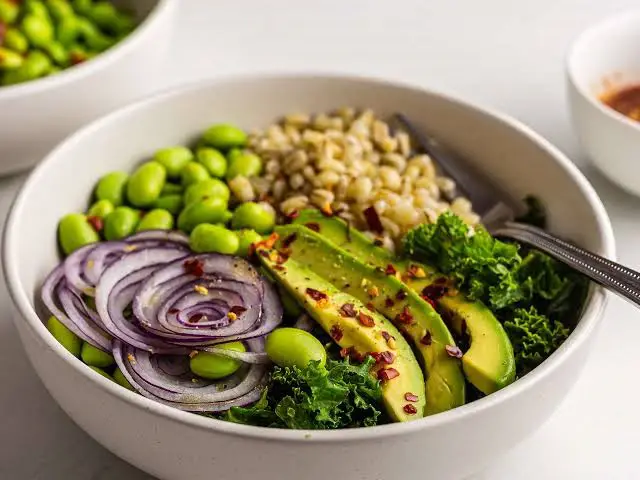 What Are The Benefits of Gluten Free Edamame?
Edamame can be beneficial for various health aspects:
Weight Loss: the beans are low in calories. It contains protein and fiber.  And help with satiety and weight management when you want to maintain a balanced diet.
Diabetics: the green beans has a low glycemic index. It controls blood sugar levels. You can make it a part of a well-balanced meal plan for diabetics.
Pregnancy: The beans are rich in folate. It is important for fetal development. However, pregnant women should consume the beans.
Cholesterol: The young soybeans contain no cholesterol. It is a source of heart-healthy unsaturated fats. Its fiber content contributes to managing cholesterol levels.
Read More: How Rapid is Weight Loss with Farxiga?
What Are The Risks of Consuming Gluten in Edamame?
Since edamame is a soybean derivative, it does not contain gluten. However, if it is prepared with gluten-containing products, there is a possibility of developing celiac disease. A skin disease like dermatitis herpetiformis is another possibility. This medical condition and celiac disease are related.
Can celiacs eat Edamame? In fact, Consuming only the beans never causes these issues. But for specific reasons, you may face Edamame side effects even though the particular beans are gluten-free. The causes are the followingly,
Cross-contamination during processing: There is a chance of cross-contamination if these vegetables and beans are processed with products containing gluten.
Additional seasonings or sauces: Some dishes are made with gluten-containing seasonings or sauces. As we know, soy sauce, which contains gluten or other flavourings, can introduce gluten into the dish.
Foods that contain gluten: The immature soybeans sometimes appear in heavier dishes or on a platter with other appetisers. In these situations, other foods on the plate contain gluten, which causes cross-contamination if they come into contact with the green beans.
Pre-packaged Edamame: Pre-packaged bean items like frozen or pre-seasoned varieties use additives or preservatives. These additives contain gluten.
Also Read: Can I Eat Bananas with Ciprofloxacin?
Frequently Asked Questions (FAQs)
Is there gluten in edamame beans?
No, edamame beans don't contain any gluten. It is immature soybeans which are naturally free of gluten. It is best to read the labels or ask about the ingredients in pre-prepared or seasoned products if you are worried about gluten content.
Can you have Edamame if you have a gluten allergy?
Edamame, young, green soybeans, are naturally gluten-free. Whole grains like wheat, barley, and rye contain gluten. In contrast, soybeans and its immature version are gluten free.
If you are gluten sensitive or allergic, you can still eat plain, unsalted meals. When adding any additional sauces or seasonings, the dish will become a gluten containing dish.
Does cooking edamame affect its gluten content?
No, cooking Edamame does not affect its gluten content. The beans are derived from soybeans. They do not naturally contain gluten. Gluten is a protein that comes from wheat, barley, and rye. The main fact is that the green bean is not related to these grains. Therefore, if you cook or consume them raw, their gluten content remains unchanged. The gluten in it is completely non-existent. This makes green soybeans a suitable option for those who need to avoid gluten due to celiac disease or gluten sensitivity.
Is edamame considered a vegetable?
Yes. Edamame is a popular plant-based protein which is known as a vegetable. It's a young, immature soybeans that are often served as a snack or appetiser.
Read More: Square Butt
Conclusion
Now it's clear that Edamame is gluten-free. Hence, It's safe and delicious for those who follow a gluten free diet. Also safe for people who have gluten sensitivities. Just avoid mixing the beans with the products that contain gluten. Also avoid consuming frozen or processed Edamame, that may contain gluten containing additives if you are gluten sensitive. Enjoy the nutritional benefits without worry!