How To Use Kamarkas For Back Pain?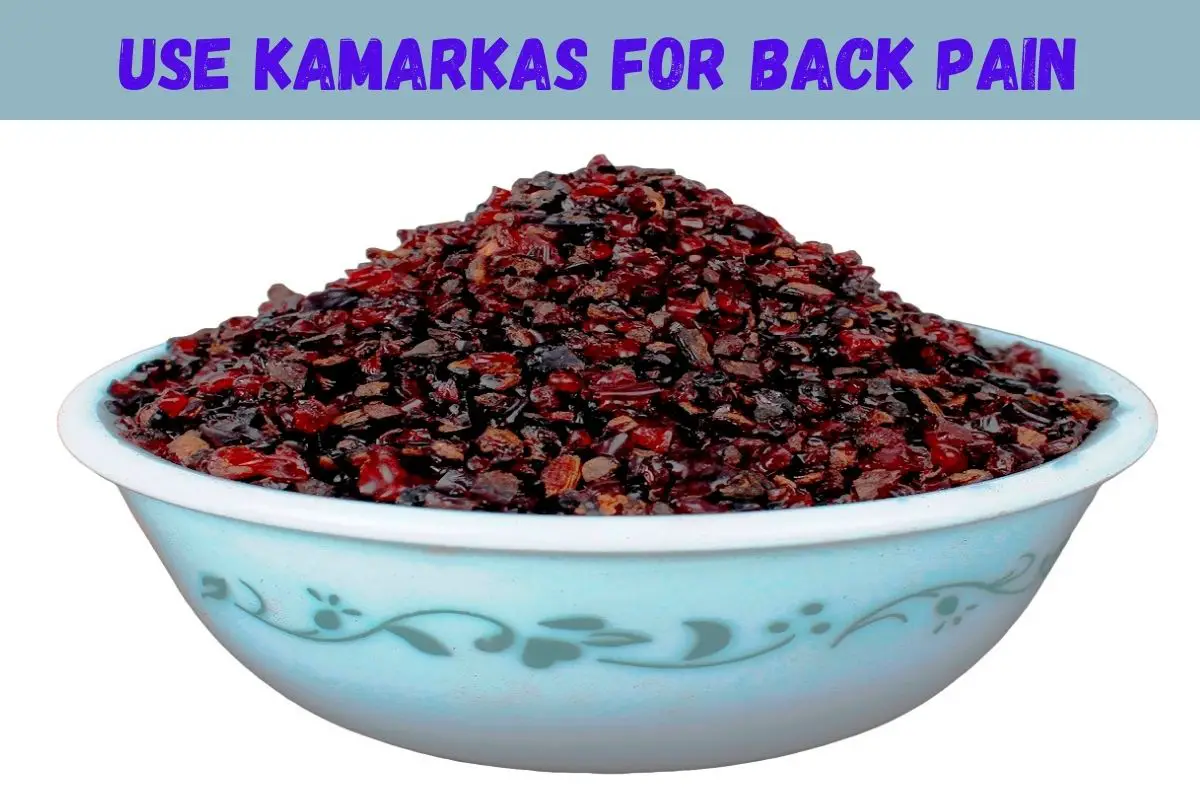 Are you one of those who are suffering from waist pain? Do you want to get rid of your waist pain but do not know how to use Kamarkas for back pain? If so, keep reading this article because we shall explain how to use Kamarkas for back pain.
Kamarkas is a very powerful immune ally and promotes healing in both the internal and external body systems. You can use Kamarkas in several ways for back pain. The easiest way to use Kamarkas is by adding them into your daily meal since it adds flavour and is tasteless so that they won't hinder your food's taste. You can also try different ayurvedic recipes of Kamarkas, which I've shared in the upcoming sections.
But before you understand how to use Kamarkas for back pain and how it cures several health issues, you must first learn what it is and how it is produced. Keep reading to learn more about Kamarkas and how it cures back and waist pain.
Read More: How to Jumpstart Weight Loss After 30?
What Is Kamarkas?
Kamarkas is the Indian spice derived from the gum/resins of an Asian deciduous tree called Palash, flame-of-the-forest, and bastard teak. The gum of the tree is known as Bengal kino, Chunia Gond, and butea gum and is known for its medicinal properties. This gum is then manufactured into little gleaming dark red flakes of powder which is called Kamarkas.
Due to its antioxidant contents, Kamarkas powder is used as a spice to add flavor to food. Due to its medicinal properties, it is also used as a herbal remedy to cure health issues such as insomnia, abdominal pain, and back waist pain. Also, Kamarkas help to promote blood and lymph drainage, which encourages the elimination of toxins from the body.
Is Kamarkas Good For Back Pain?
Kamarkas will help you get rid of back pain as it is made of herbal medicines. It is rich in minerals. The mineral present in this all-natural sage relieves back pain and gives strength. By using Kamarkas, you can also get rid of menstrual cramps and abdominal pain.
Also, lumbar pain is caused by a variety of factors. But a possible cause of lumbar pain that you have to consider is inflammation. Excessive pressure on intervertebral disks can lead to this inflammation. Fortunately, there are many Kamarkas recipes that you can try to ease the inflammation. I have checked different sites and found many benefits of this herb. This is why I have collected some information in this article to help people who suffer from waist pain problems. If you are wondering how to eat Kamarkas for back pain, here are some Kamarkas recipes for back pain that you can try.
How To Use Kamarkas Powder For Back Pain?
Here we added several recipes, including Kamarkas laddu recipe, Kamarkas halwa and barfi ideas, and how to use Kamarkas for back pain. In case you are unaware of Kamarkas, it is a herbal product that aids in curing various health issues such as insomnia, migraine and back pain, and more. Here's the easiest recipe that you can try:
Kamarkas Recipes For Back Pain.
It takes only half an hour to prepare delicious Kamarkas laddus, a sweet dish that both you and your family is bound to love. For this recipe, you will only need the Kamarkas red gum, wheat flour, sugar, cashew nuts, and ghee or butter. Consider following these steps:
Simply take a pan and add a dash of ghee. Wait till it is hot.
Fry the gum in it till it has dried.
When the gum has dried, add in the wheat flour and roast. Make sure to saute it, or else the gum may get stuck at the bottom.
Switch off the stove when the flour is fried and add sugar. Mix it will.
Once the mixture has come to room temperature, take it out of the pan and make it into shapes.
Additional tips: You can make it round shapes like laddu or cut it into barfi shapes. In this way, you can have both Kamarkas halwa and laddu for back pain. It is also a healthy treat for pregnant women.
Conclusion
I wrote this article to explain what herbs can cure waist pain and how to use Kamarkas for back pain. So far, we have seen some types of herbs that can be used as a treatment for waist pain, but few have mentioned the use of Kamarkas. This herb is one of the few that has been used for thousands of years for body ailments and is especially effective in the treatment of pain and inflammation. Of all herbs, this one contains minerals, which build red blood cells, strengthen bones, help with other deficiencies, and maintain glowing skin, hair, and nails. Hopefully, this article may help you reduce back pain and stop waist pain using Kamarkas.
Read More: How Long Does Weight Loss Surgery Take?